KuCoin Shares are native tokens of KuCoin exchange. Although they are not treated as securities, holding them grants users dividend-like rewards such as 50% of the collected fees and other cool perks.
Market Cap Volume 24h Circulating Supply $93,701,022 $8,883,837.70 80728394.0 KCS
What is KuCoin?
KuCoin is a global cryptocurrency exchange based in Singapore. Launched in August 2017, it has offices in southeast Asia and China. Since its launch, KuCoin has experienced significant growth and quickly became one of the most popular altcoin exchanges.
See more: What is crypto sign kcs
The exchange is known to be a competitor of Binance. It is beginner-friendly, has a powerful API, many altcoin markets and great incentives. For example, as much as 90% of all trading fees are returned to the community members. One of such incentives is KuCoin Shares (KCS).
If you want to know more about the exchange, please see our complete KuCoin exchange review.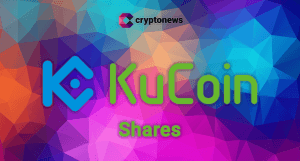 What Are KuCoin Shares (KCS)
KuCoin Shares (KCS) are Ethereum ERC-20 tokens that can be used exclusively on the KuCoin exchange. In total, 200,000,000 KCS were issued via a crowdsale, of which nearly 90,000,000 are in circulation. Every quarter, KuCoin uses 10% of its profits to buy-back and burn KCS tokens until there are only 100,000,000 of them left. KCS holders get the following benefits:
Receive daily cryptocurrency dividends which amount to 50% of the collected trading fees.
Get a trading fee discount.
Can trade in additional trading pairs, including BTC, ETH, LTC, USDT, XRP, NEO, EOS, CS, GO.
Customer support fast-pass.
Receive exclusive KCS holder perks and offers.
How Do KuCoin Shares (KCS) Work?
Most importantly, KuCoin users earn part of the daily exchange profits by staking KCS. These payments directly reflect the success of the exchange in terms of transaction and trade volume. The more trading fees the platform collects, the larger is the daily rewards pool. The amount of paid dividends is proportional to the KCS one holds.
For instance, if you hold 10,000 KCS, and the exchange collects 20 BTC in trading fees (0.1% of daily trading volume), you would receive 0.001 BTC converted to KCS per day (20 * 50% * (10000/100000000)). The payouts are calculated for every token pair listed on KuCoin and are paid out mainly in KCS, but sometimes in other altcoins, too. The payouts occur automatically every day at 02:00 (UTC +8), and it can take up to 24 hours to receive the bonus.
The only requirements to be eligible for the bonus are:
A user must hold at least 6 KCS for at least 24 hours.
A user must activate his or her account 2FA
Another perk of KCS tokens is the ability to get a trading fees discount. You have to get at least 1000 KCS for a 1% discount, while the maximum discount is 30% for 30,000 KCS. The system takes a snapshot of users KCS holdings every day at 00:00 (UTC +8) to calculate the applicable discount rate.
KuCoin Shares Token Burn
Maybe you are interested: Why Cryptocurrency-Related Investments Like Coinbase and Bitcoin Are Struggling Today | The Motley Fool
Daily KCS token distribution and reward payouts eventually would lead to KCS token inflation. KuCoin does quarterly KCS buy-backs and token burns to counter it.
It works like this: at least 10% of the exchange's net profit is used to buy-back KCS every quarter. The tokens retrieved through buy-backs are destroyed immediately. The process can be observed using blockchain explorer.
The token burn process will continue until there are only 100,000,000 KCS left. As of February 2019, KuCoin has executed five token buybacks and burns. Current KCS supply stands at 179,939,916 KCS.
All in all, only 10% of trading service fees go to KuCoin exchange. The remaining 90% of the collect trading fees return to the community via KuCoin Shares (50%) and referral bonus program (40%).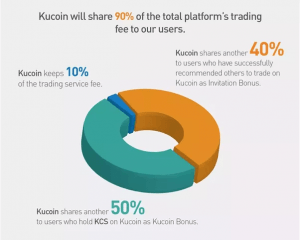 KuCoin Shares ICO
KuCoin Shares (KCS) were used to raise funds for the development of the exchange. The ICO lasted from August 13, 2017, to September 1, 2017. The crowdsale raised nearly $20,000,000 in BTC, as 100,000,000 KCS were distributed to exchange founders and private investors, and other 100,000,000 have been sold in the crowdsale. The ICO price per KCS was 0.000055 BTC or $0.197326.

Tokens issued in the first phase (founders) are locked up for four years until September 2, 2021. Tokens sold in the second phase (industry stars and angel investors) are locked for two years until September 2, 2019.
How To Get KuCoin Shares (KCS)
KuCoin Shares (KCS) can be acquired only in the KuCoin exchange. The simplest way is to purchase them via the order book. Alternatively, you can earn KuCoin Shares by referring your friends.
The KuCoin referral program lets you earn up to 20% of your invitees' trading fees. It works in the following way:
You invite your friends to join KuCoin through a referral link.
Each referral will be effective for one year since the moment your friend makes his first order.
You receive a referral bonus on three levels: – A-level invitee – 20%. These are people who sign up directly through your link. – B-level invitee – 12%. These are people who sign up indirectly through your invitee's referral link. – C-level invitee – 8%. These are all people who sign up indirectly through your invitee's invitee's links.
All in all, the KuCoin referral bonus program means up to 40% of your invitee's trading fees can get back to you. The rewards are paid out every two hours, and only in KCS tokens.
If you want to open an account in KuCoin exchange, you can click here or use our KuCoin referral code: f7MKe6.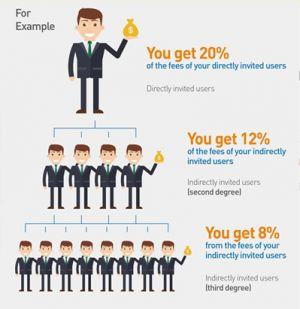 How To Store KCS Tokens
Most read: Top 20 Promising Blockchain Projects in 2022 – 101 Blockchains
Since KuCoin Shares (KCS) are ERC-20 tokens issued on the Ethereum network, they are compatible with every wallet that supports ERC-20 standard. Popular ERC-20 wallets include Metamask, Jaxx, MyEtherWallet, and others.
For most highest level of security, it is recommended to use a hardware wallet. The most popular hardware wallets that ensure unprecedented crypto assets safety are Ledger and Trezor.
KuCoin Team
Although the exchange has started its operations in mid-2017, its founders have experimented with blockchain technology since 2011. It is said that the platform had its foundations already in 2013, yet it took four more years to test and launch it.
KuCoin's management team consists of eight core members. The key founders are Michael Gan and Eric Don.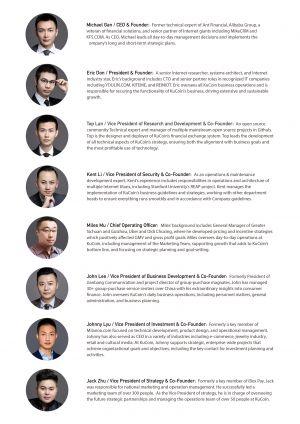 Today KuCoin services reach most countries in the world, including the United States, India, and other big and small markets.
KuCoin News and Progress
During the ICO, KuCoin had released a whitepaper which outlined a rather specific development roadmap.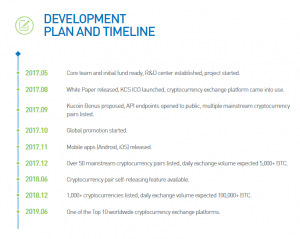 It can be seen that despite the ambition to become one of the top 10 global cryptocurrency exchanges, it has fallen short on some goals like having 1,000 cryptocurrencies listed with expected daily volume of over 100,000 BTC by the end of 2018. At the moment, the exchange has listed only 177 cryptocurrencies and has an average daily volume of nearly 1,300 BTC. Although the primary reason for this may be a harsh cryptocurrency recession, which hit most altcoins listed on KuCoin especially hard.
Nevertheless, the KuCoin team continues to develop its exchange and currently plans to release v.2.0 of its exchange platform. It will include new features like stop orders, upgraded APIs, platform redesign, and social features.
In the latest news, KuCoin has partnered with Simplex to integrate credit and debit card payments into the platform.
Similar Coins
Binance Coin (BNB) – Binance's native token that allows users to get trading fee discounts. Bankera (BNK) – Bankera's exchange native token that pays dividends for the token holders. ZB token (ZB) – A multipurpose token of ZB.com exchange.
Most read: XRP is Not a Real Cryptocurrency, Says Expert | nftgamef.com