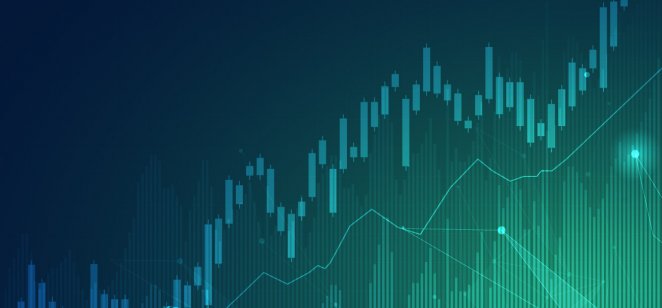 Riot Blockchain (RIOT) stock is struggling to recover declines amid a wider cryptocurrency selloff that's wiped out $1trn in market value. As China abandons crypto mining, what new opportunities abound in 2022, and is RIOT stock now buy, sell or hold?
RIOT, a bitcoin miner, trades on the Nasdaq, after changing its name from Bioptix, a biological sciences technology company with one registered veterinary patent, and switching operations in October 2017. Its market capitalisation, currently at $1.75bn (as of 25 January), puts it among the larger US crypto mining companies.
See more: Riot blockchain stock forecast 2030
RIOT stock analysis
Tied to the fortunes of bitcoin, RIOT's share price has at least partially been driven by the cryptocurrency's price.
RIOT's 48.87% contraction in the last three months closely tracks bitcoin's 40.77% fall over the time period. RIOT's price bumps came at a time of accelerating demand for bitcoin, albeit at a more modest pace.
RIOT Blockchain's share value is now in a troubling position, trading near the bottom of its 52-week range. Its $15.13 share price (as of close on 24 January 2021) is close to the bottom of its 52-week range of $14.90.
It's indicative of severe volatility for the company's stock over the last year. While the link to bitcoin is an established one, the stock has also slumped on disappointing earnings results in November, which missed analysts' targets, causing an over 16% daily drop on 16 November 2021.
The share value has already contracted by 32.24% through January. Its closing price of $15.13 at close on 24 January 2022 marked a 0.9% daily rise, after a 14.14% fall to close on 21 January, giving the company a market cap of $1.75bn.
A RIOT Blockchain technical analysis indicates that the miner may be skewing back to 'buy' territory. One-day oscillators signal the company is in a 'buy' position, with the Relative Strength Index (RSI) in underbought territory at 27.30.
But the stock's moving averages give strong bearish signals, with 13 of 15 indicators in a 'sell' position, including an Exponential Moving Average of 18.17 and Simple Moving Average of 18.67.
The stock's Moving Average Convergence Divergence (MACD) level of -2.76 also suggests a 'sell' position. A slight rise in the stock on 24 January implies that investors could be further enticed by these technicals.
Most read: Learn how our last mystery smart contract works – CryptoKitties Blog
The company is languishing at its current value, and having breached its S1 support levels, there could be a real possibility the stock will fall further to S2 support of $9.09, with a Pivot Point of $28.33 last seen during the stock's freefall in early December.
Where next for Bitcoin mining?
RIOT Blockchain deployed around 8,000 application-specific integrated circuit (ASIC) miners at its cryptocurrency mining facility in Oklahoma for release in early 2021, helping their total exceed 15,000. In recent RIOT Blockchain news, company filings indicated that figure exceeded 25,000.
The US company is part of a growing cohort increasing the country's share of bitcoin mining. A crackdown on crypto mining by China helped the US increase its share to more than 35% in August 2021 compared to 4.1% in September 2019, according to Cambridge Centre for Alternative Finance.
Cryptocurrency mining remains a highly lucrative activity, with bitcoin mining revenue a day averaging around $45m in the second week of January – as with bitcoin, that's prone to large fluctuations.
RIOT is battling similar-cap companies like Hive Blockchain Technologies (HIVE) and Marathon Digital Holdings (MARA).
RIOT recently upgraded its self-mining hash rate guidance for 2022 to 12.8 exahash a second (EH/s), up from a guidance of 9 EH/s in December, as the company increased its miners figure above 29,000.
While far exceeding current figures released by Hive of 1.7EH/s, RIOT's hash rate will fall short of Marathon's, which expects to reach 13.3 EH/s by mid-2022 and 23.3 EH/s by late 2033.
This comes on the backdrop of an increased battle at the margins for the mining industry. According to nftgamef.com, transaction fees paid to miners have plummeted in the last six months, while network difficulty has risen sharply over the same time period.
There is growing concern among US lawmakers about the energy consumption of the blockchain, which is estimated by Digiconomist at 204.5 TWh a year.
This figure would make the US among the top 23 most energy-intensive countries, and one that would more than 60% of the UK's energy requirements. The recent hearing by the US government into crypto power usage is likely to be the beginning of further scrutiny. If Bitcoin fails to find a way to be more planet-friendly, its mining potential may be curtailed.
Revenues boom but losses surprise investors
Latest earnings, released on 15 November 2021, show that RIOT Blockchain enjoyed strong revenue growth while again failing to turn a profit.
Revenues for the company dramatically increased as the price of bitcoin skyrocketed between Q3 2020 and Q3 2021, with total revenues rising by 2,532% to $64.8m, and mining revenue increasing by 2,099% to $53.6m.
Revenue gains were driven not just by the increased price of bitcoin, but also raised production of the cryptocurrency that grew by 482% to 1,292 bitcoin over the quarter, against 222 bitcoin in Q3 2020.
Most read: Cryptocurrency Tax: How Is Cryptocurrency Taxed? | ZenLedger
While on a downward trend, the average price of Bitcoin over the last three months of 2020, particularly following a spike in November, should be higher than the $41,837 average calculated by RIOT for Q3 2021.
Revenue growth for Q4 2021 could be more disappointing as bitcoin experienced more volatility towards the end of Q4 2020, but the aforementioned strong average price could buffer the company upon the next earnings release.
Despite strong gains in revenue from the bitcoin wave, the company still posted considerable losses. Selling, general and administrative costs hit $40.3m, which was the main contributor to overall company losses of $69m.
Costs, in the form of cryptocurrency mining and data centre housing, exceeded $25m. Net loss for the quarter was $15.3m, amounting to -$0.16 a share, far below analyst estimates of earnings a share (EPS) of $0.25.
Heavy fixed costs related to the mining process are a cause for concern – they can be as volatile as that of cryptocurrencies.
RIOT stock forecast 2022-2030
Despite sustained downfall, analysts remain bullish that RIOT stock will come good and begin to generate growth in 2022.
Based on eight analyst ratings compiled by MarketBeat, the average RIOT stock price target for the next 12 months is $44.88, representing a mammoth upside from the current share price. RIOT stock predictions range from a low of $30 to a high of $50. All eight analysts gave the stock a 'buy' recommendation.
Strong ratings given to the stock in January include HC Wainwright's $50 price target and B. Riley's downgrade to a $53 RIOT stock price prediction. The lowest target, of $30 by Northland Securities, still represented 41.98% upside on the day of the report.
Although analysts rarely give long-term forecasts, Wallet Investor's outlook for RIOT reflects volatility inherent to the cryptocurrency industry.
The algorithm-based forecasting service projects a closing price in December 2023 of $66.68, rising to $72.80 by December 2025. A RIOT stock five-year forecast returns a projection of $32.25 through to January 2027.
AI Pickup looks more bullish comparatively on the stock in the medium-term, but still provides plenty of upside before a strong correction to close out the decade. The stock is forecast to hit $46.21 on average in 2026, before falling to $11.21 by 2030.
Note that price predictions can be wrong. Forecasts shouldn't be used as a substitute for your own research. Always conduct your own due diligence before investing. And never invest or trade money you cannot afford to lose.
Most read: Covalent price today, CQT to USD live, marketcap and chart | CoinMarketCap
FAQs
Read more: Accenture (ACN) share price forecast: Is it time to buy the dip?