What began as the basis of cryptocurrencies such as Bitcoin, blockchain technology — a virtual ledger capable of recording and verifying a high volume of digital transactions — is now spreading across a wave of industries. In 2021, funding to blockchain startups surged 713% YoY to reach $25.2B.
Bitcoin's popularity helped demonstrate blockchain's application in finance, but entrepreneurs have come to believe the tech could transform many more industries — from insurance to gaming to cannabis. Ultimately, the use cases for a transparent, verifiable register of transaction data are practically endless — especially since blockchains operate through a decentralized platform requiring no central supervision, making them resistant to fraud.
See more: Blockchain disruptions
Now, with the arrival of the metaverse, blockchain technology will become more significant, as cryptocurrencies and non-fungible tokens (NFTs) will enable purchases and value storage in virtual reality.
As companies use blockchain to drive greater transparency and veracity across the digital information ecosystem, they're boosting awareness of the technology in sectors ranging from infrastructure to public policy. Here are the latest innovative ways companies are harnessing the power of blockchain.
Table of contents
Financial services
Travel & mobility
Infrastructure & energy
Healthcare
Government
Retail & CPG
Agriculture & natural resources
Information & communication
Entertainment
Enterprise tech
Financial services
Banking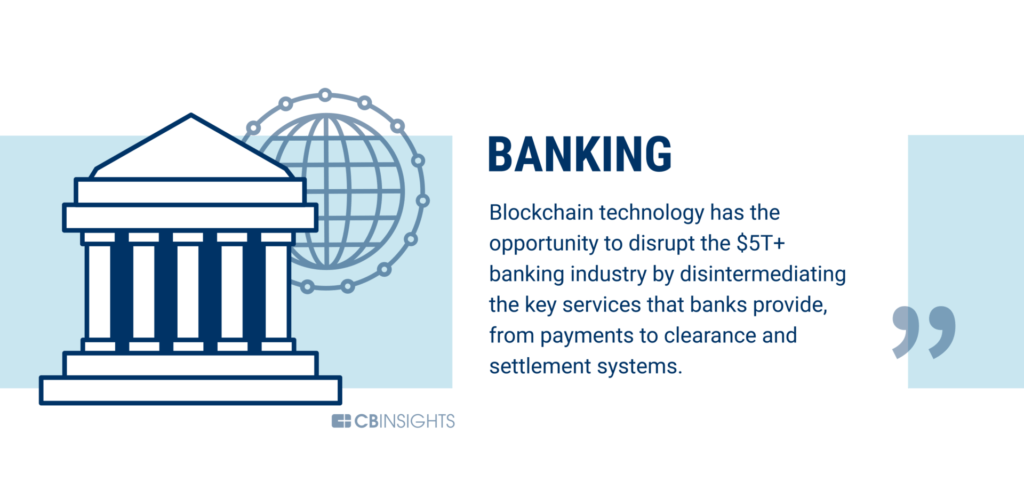 Blockchain and banking are just the beginning. From a macro perspective, banks serve as the critical storehouses and transfer hubs of value. As digitized, secure, and tamper-proof ledgers, blockchains could serve the same function, injecting enhanced accuracy and information sharing into the financial services ecosystem.
JPMorgan Chase has entered the blockchain space with the JPM Coin, which is designed to facilitate real-time cross-border payments between its business clients. Other banks like Goldman Sachs and Citigroup have also experimented with blockchain. The incumbents performed an equity swap built on Axoni's Axcore blockchain in February 2020.
More broadly, blockchain has the opportunity to disrupt the $5T+ banking industry by disintermediating the key services that banks provide, from payments to clearance and settlement systems.
Facilitating payments is highly profitable for banks — B2B cross-border transactions alone are expected to reach a total value of $35T in 2022, according to Juniper Research. However, blockchain technology offers a secure and cheap way of sending payments that cuts down on the need for verification from third parties and beats processing times for traditional bank transfers. As such, the number of B2B cross-border payments on the blockchain will soar to almost 1.8B by 2025, compared to 122M in 2020.
Blockchain company Ripple has partnered with over 300 customers, including financial institutions like Santander and Western Union, with the goal of improving the efficiency of cross-border payments. Its RippleNet payments network uses a decentralized infrastructure to reduce the time it takes to send an international payment to 3 seconds, compared to up to 5 days for traditional international bank transfers.
R3, another major player working on distributed ledger technology for banks, saw its technology used by Switzerland's central bank for a successful pilot to settle large transactions between financial institutions using digital currencies.
For more on how banks will use blockchain — for everything from trade finance to customer KYC and fraud prevention — read our explainer here.
Stock trading & hedge funds For years, companies have worked to ease the buying, selling, and trading of stocks, and now new blockchain-focused startups are looking to automate and secure the process more efficiently than any past solution.
TØ.com, a subsidiary of Overstock, wants to enable stock transactions online using blockchain tech. The tZERO platform integrates cryptographically secure distributed ledgers with existing trading processes to reduce settlement time and costs and increase transparency and auditability. Credit Suisse is also aiming to shorten settlement periods. In April 2021, it made history by settling 2 stock trades — one at 11AM ET and one at 3PM ET — on a same-day settlement cycle for the first time ever. The settlement took place at 4:30PM ET on the Paxos Settlement Service.
Partnerships with existing trading networks and exchanges will help blockchain take off in the space. Blockchain company Chain, which was acquired by Stellar in 2018, helped orchestrate a live blockchain integration that successfully connected Nasdaq's stock exchange and Citi's banking infrastructure. More recently, Nasdaq partnered with R3 to build a platform — using R3's enterprise blockchain software solution Corda — that financial institutions can use to create and manage their own digital asset marketplaces.
Meanwhile, Numerai is taking the hedge fund model — employing a bunch of traders and quants — and decentralizing it. Numerai, which is backed by names including First Round Capital and Union Square Ventures, sends its thousands of disparately located quants encrypted datasets and asks them to build predictive models, and the best contributors are rewarded with Numerai's token called Numeraire. Then, Numerai takes the strategy and creates a meta-model to make trades.
In October 2020, Numerai announced a new project, called Numerai Signals, that would accept signals from models trained on any dataset, not just its own. The company has set aside $50M worth of its Numeraire tokens as rewards for "the most original signals" submitted. As of Q3'21, the platform had 3,398 models and $28M worth of tokens staked, with Numeraire stakes reportedly reaping a 15% 3-month return.
Maybe you are interested: Cryptocurrency: Risks to your institution | Legal Blog
Blockchain technology is also coming to impact investing. Impact tokens can incentivize activities that support the UN's Sustainable Development Goals. These tokens are integrated with smart contracts and are provided as rewards for certain activities.
The applications of impact tokens are broad. Collaboration Impact Tokens are awarded to tourists choosing less popular attractions to reduce overcrowding in other destinations, and they are also granted to governments for managing tourist flow. HARA tokens incentivize the sharing and verification of agricultural data for use by farmers.
Crowdfunding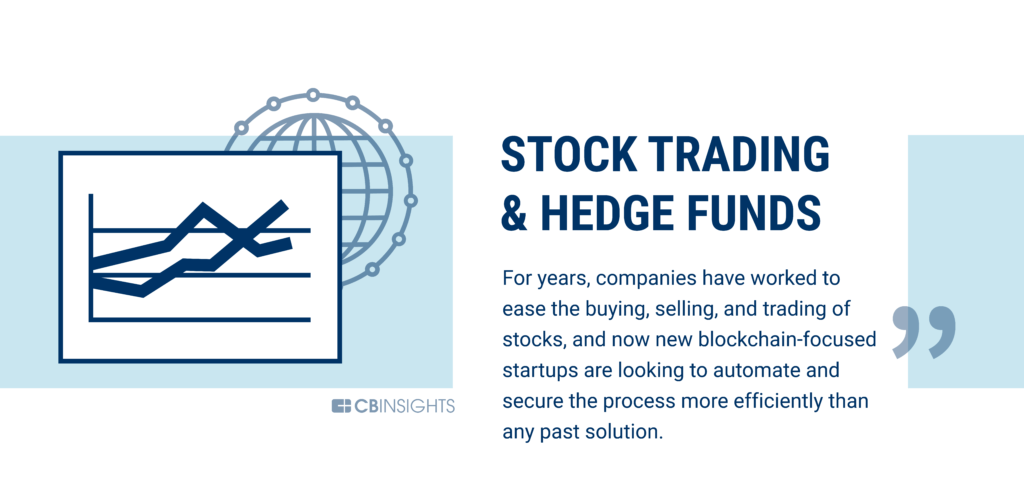 The crowdfunding industry emerged to "disintermediate" capital formation by giving backers (aka "pledgers") or individual investors the ability to directly fund creators and entrepreneurs, providing a natural alignment with blockchain capabilities.
For example, the movie BRAID became the first major feature film to be financed through a token "crowdsale" on the Ethereum blockchain through its $1.4M campaign on Weifund. While the film did end up being made, even debuting at the Tribeca Film Festival to a mostly positive reception, it's unclear whether or not its investors received their money back.
Initial Coin Offerings (ICOs), in which companies sell cryptocurrency-backed tokens in their companies in the same manner as a publicly traded company sells stock, are another example of blockchain-powered crowdfunding. Companies like CoinList, which began as a collaboration between Protocol Labs and AngelList, are bringing digital assets to the mainstream by helping blockchain companies structure legal and compliant ICOs.
Other startups emerging in the ICO ecosystem include Waves, a platform for storing, managing, and issuing digital assets, and Republic, which has launched a crypto initiative aimed at helping people invest in ICOs for as little as $10.
Pledgecamp is a Kickstarter and Indiegogo competitor which aims to increase transparency (via smart contracts) and offer "Backer Insurance" by decentralizing the process. As projects reach target funding, money is transferred to a secure escrow wallet that unlocks funds gradually. Backers can see how the money they invested is being spent and can provide input about the direction of the project, e.g., by voting on whether to begin a new phase of development.
Crypto exchanges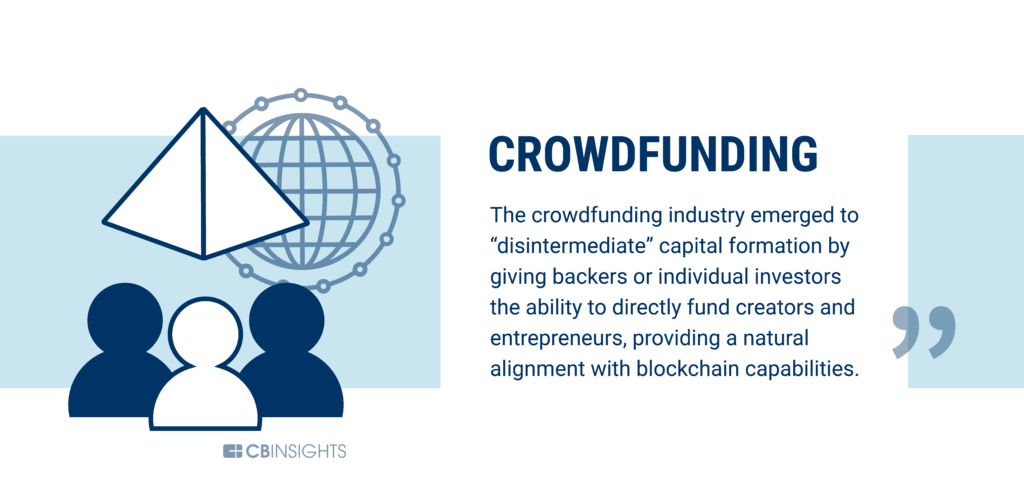 One way blockchain reduces conventional cybersecurity risk is by simply removing the need for human intermediaries — thus lessening the threat of hacking, corruption, or human error.
Ironically, some of the most successful blockchain companies are fairly centralized middlemen. However, many new projects are "dogfooding" the buying and selling of blockchain-based currency by putting the whole exchange on a blockchain.
One high-profile project here is Enigma, which claims MIT and Flybridge Capital as supporters. Enigma is the developer of Catalyst, an off-chain decentralized exchange and investment platform that works without the need of a third party to act as a clearinghouse.
Another high-profile decentralized exchange is Ethereum-based 0x.
Centralized exchanges like Binance and Coinbase have made moves in the decentralized exchange space, launching Binance DEX in 2019 and acquiring the peer-to-peer trading (P2P) platform Paradex in 2018, respectively.
Wills & inheritances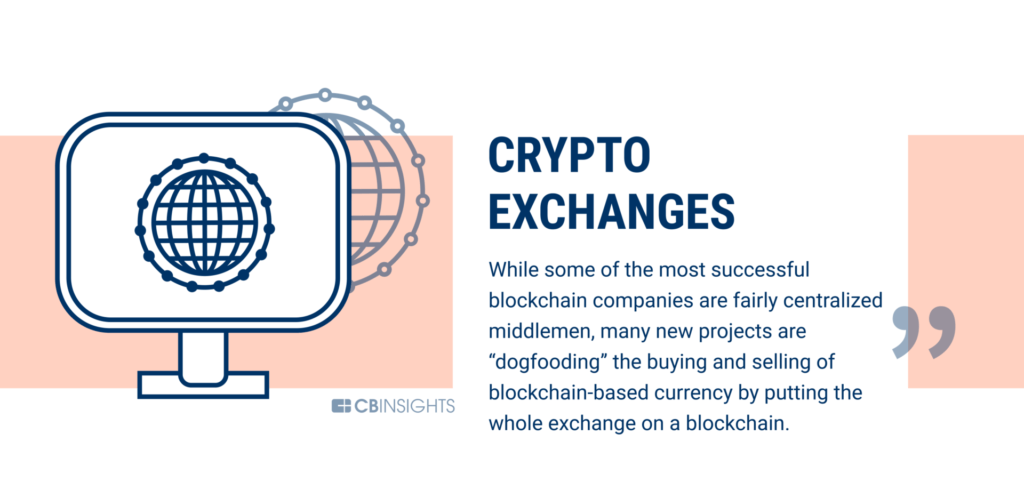 Wills are a highly specific kind of contract, providing an ideal use case for a blockchain smart contracts solution. In addition to the need to verify the deceased's actual death, will-related litigation often involves challenges to the "genuineness" of a will — that is, whether the legal interpretation aligns with the deceased's intentions.
While the application of blockchain tech would not completely remove these difficulties, it would make it easier to identify factual information, provide verifiable transaction data, and dismiss claims that are without merit.
Japan-based startup Zweispace is developing a self-executing will system with a blockchain that will automatically distribute assets of an inheritance trust to beneficiaries upon confirmation of the trustee's passing, eliminating the need for executors and court battles regarding the integrity of the will.
Accounting
Most read: Frontiers | An Analysis of Blockchain Adoption in Supply Chains Between 2010 and 2020 | Blockchain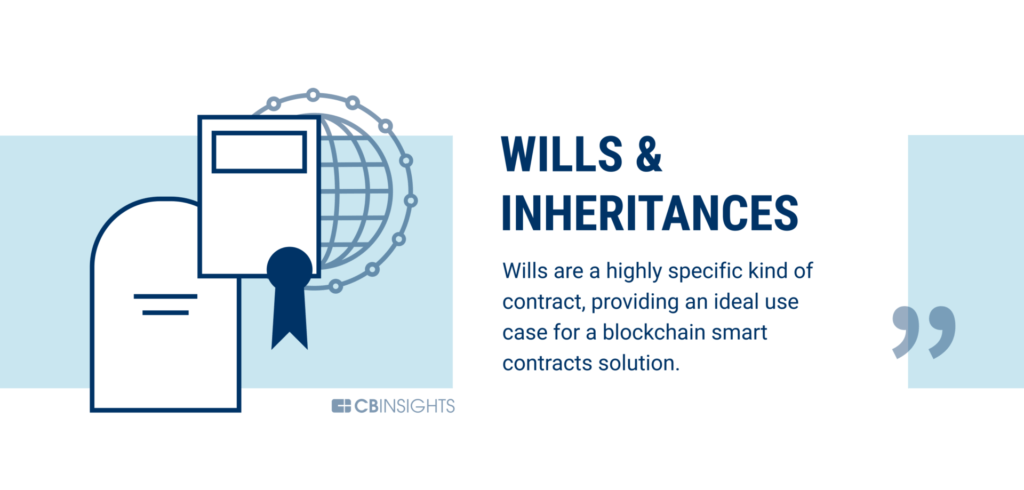 As the banking industry continues to adapt to cryptocurrencies and blockchain technology, accountants are beginning to follow suit.
Accountants work with a spread of documents — from tax forms to bank statements to spreadsheets — containing extensive personal or organizational information. Layering in blockchain technology could make it easier to keep track of this sensitive data as it is processed by accounting firms.
Data tracking enabled by blockchain technology may also help to automate certain accounting services using AI, which could reduce human error and instances of fraud.
Big Four accounting firms are already jumping on board: KPMG has invested in programs and projects to research and share information about blockchain; PwC has created an auditing service for cryptocurrency assets; Deloitte has developed blockchain-based software; while EY's Blockchain Analyzer can help auditors to accurately vet digital assets.
Loans & credit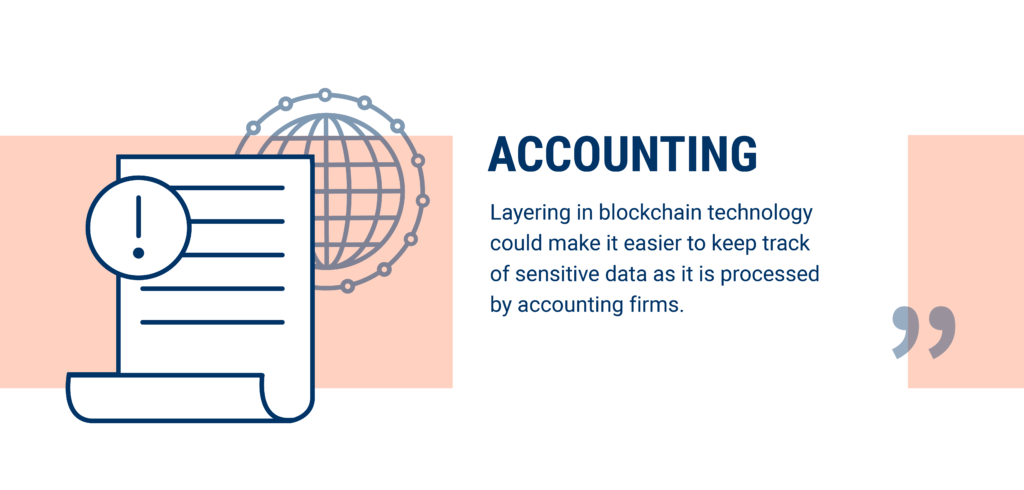 Traditional banks and lenders underwrite loans based on a system of credit reporting. Using a credit report provided by one of 3 major credit agencies — Experian, TransUnion, and Equifax — banks evaluate the risk that you won't pay them back.
This centralized system can be hostile to consumers. The Federal Trade Commission (FTC) estimates that more than a third of Americans have a "potentially material error" in their credit score that negatively impacts their ability to get a loan. Further, concentrating this sensitive information within 3 institutions creates a lot of vulnerability. The September 2017 Equifax hack exposed the credit information of nearly 150M Americans.
Alternative lending using blockchain technology offers a cheaper, more efficient, and more secure way of making personal loans available to a broader pool of consumers. With a cryptographically secure, decentralized registry of historical payments, consumers could apply for loans based on a global credit score.
A number of companies are working in this space. Dharma Labs, for example, is a protocol for tokenized debt. It aims to provide developers with the tools and standards necessary for building online debt marketplaces. Meanwhile, Bloom wants to bring credit scoring to blockchain and is building a protocol for managing identity, risk, and credit scoring using blockchain technology.
Another alternative to traditional loans is P2P lending. Individuals and businesses can loan to and borrow from each other without having to deal with the rigid requirements of banks. These loans typically take place on fintech platforms. The startups that run these platforms conduct risk assessments, approve applications, and hold lenders' money, as well as collections from borrowers, in escrow funds. While such activities facilitate lending, they also turn fintech firms into the middleman.
But there's little room for third parties in DeFi (decentralized finance) lending, where smart contracts remove the need for a trusted intermediary. DeFi lending enables true P2P financing — lenders and borrowers transact directly with each other at their own risk using cryptocurrency. As of January 2022, the total value locked in DeFi was $92.36B, up from $34.69B the previous year.
In DeFi lending, borrowers must put up collateral by depositing, via a smart contract, an amount in currency that is at least equivalent to the amount they want to borrow. To protect against value fluctuations of cryptocurrency, some lending pools require borrowers to over-collateralize their loans. The catch for borrowers is that interest rates tend to be higher in DeFi lending than in traditional finance, often reaching 10%. The lure, on the other hand, is that the value of the coin borrowed might spike, which means they can turn a pretty profit.
BankSocial is an Ethereum-based platform that claims to be the first blockchain-based P2P lending platform. It uses a social consensus lending pool and pays its members to hold tokens that are used for funding loans. Members stake tokens in exchange for some of the interest collected from each loan.
Lendoit makes a similar claim but a different play. It focuses on microloans, eschews collaterals, and has a marketplace for selling default debts. It collects a fraction of each loan in a compensation fund, and that fraction is immediately given to the lender in the event of a default to mitigate loss.
That said, there is a way for traditional, regulated institutions to wiggle into the DeFi space without having to enlarge their risk appetite. Lending platform Aave, for instance, has launched a permissioned liquidity pool that allows only "whitelisted" institutions — those that pass due diligence checks — to lend and borrow cryptocurrencies.
Insurance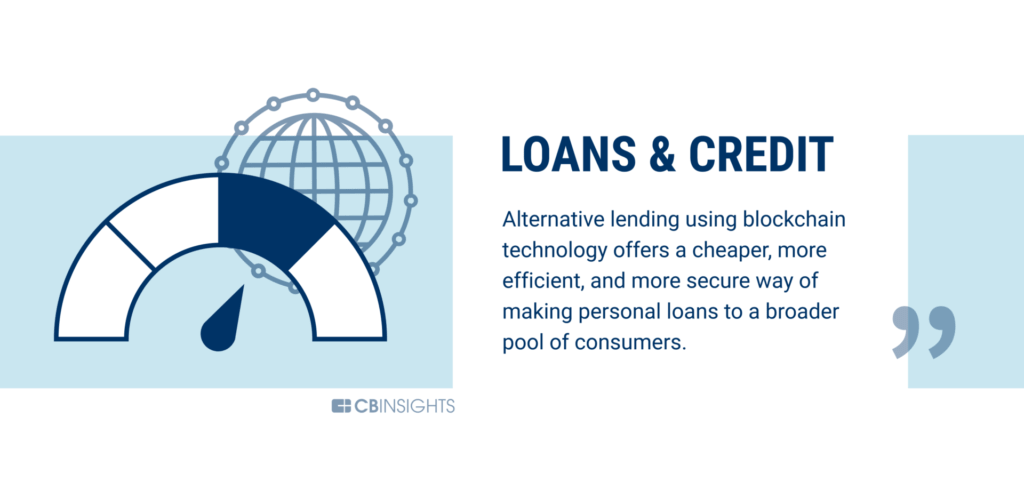 Most blockchain applications in the insurance industry today are focused on improving operational efficiency. Rather than developing new products, insurance companies are looking at ways blockchain can drive down costs, increase speed to market, and provide better customer experiences.
For example, using a blockchain to create a single source of truth for transactions between parties has the potential to significantly drive down processing time and costs for insurance companies.
Most read: Fiat Wallet – CAD Bank Transfers | nftgamef.com Help Center